Construction Dumpsters Rental Lubbock, TX
Find the Perfect Roll Off Dumpster Today!
Construction dumpsters in Lubbock, TX are now easier than ever. Contractors want construction dumpster rentals that are low-cost, delivered on time, and emptied quickly. Well Happy Trash Roll Off Containers is constantly told by our customers that we provide the
fastest construction dumpsters
they have ever used. We offer premium hook lift roll off dumpster rentals or construction dumpsters in Lubbock TX. Our dumpsters are priced 10% below the average price in Lubbock!
Our Customers Consistently Save over $29 per dump on construction dumpsters!
Happy Trash provides  construction dumpsters in Lubbock TX for large 30 yard construction dumpsters
Our roll off containers let you easily throw out  construction debris, household junk, roofing materials, and even yard waste
Schedule a delivery and pick-up that's convenient for you, we even offer after hour and weekend services
Items not allowed include: Hazardous materials, tires, compressed tanks, items with Freon, liquids, etc.  These items cannot be placed inside the dumpster
Getting
Happy Trash
to deliver a dumpster rental in Lubbock, TX is easy due to our fast service, great prices, and simple billing methods. You have found Happy Trash roll off containers. You don't have to worry about finding a great company to take care of you. We are locally owned and operated. When you call you are talking to a person in Lubbock not an 800 number booking service.
$410 Includes:10 Day Rental Period, Delivery, Pickup, 8000 pounds of trash etc. NO FUEL SURCHARGE! Know what you are paying in advance.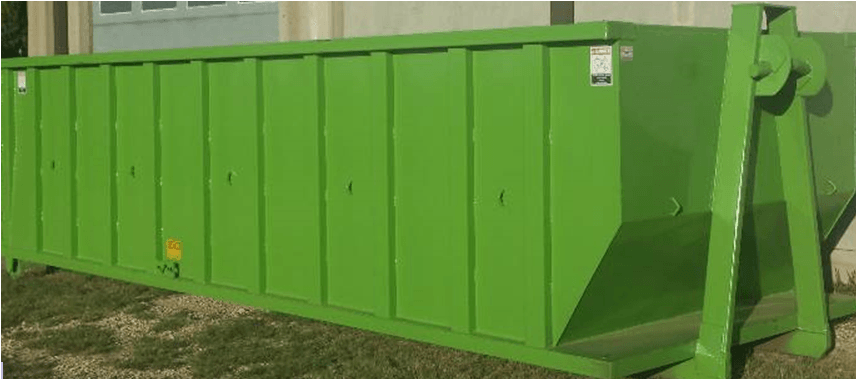 22 foot long 30 yard construction dumpsters available (pictured above)
Household Debris
8000 lbs included in price
$410.00 Flat Rate!
Prices and availability are subject to change without notice.
Construction Debris
8000 lbs included in price
$410.00 Flat Rate!
Prices and availability are subject to change without notice.
What Construction Dumpsters are Right for my job?
Depending on what kinds of projects you're working on, you're going to need a certain size dumpster to handle the waste. For example, the waste disposal needs of a construction site are going to differ from the needs of a homeowner trying to clean out his garage.
Our 30 yard roll off container offers more space for bigger clean-outs or for large amounts of construction debris. This is the most popular size and customers will typically order this size if they know they're going to have a lot of trash on their hands. It's also perfect for multi-day jobs that will generate an unknown amount of waste. For instance, replacing the shingles on a roof or putting an expansion onto your house. If you order a 15 yard dumpster and end up dumping it twice then it is much less expensive to order one 30 yard dumpster. If you think that 15 yards might not be enough for your construction dumpster size then you should order a 30 yard roll off container rental.
Of course, if you have any questions as to size and weight then when you call to order a roll off dumpster, you'll be able to get a recommendation right on the spot. We've been hauling trash for years, so we'll be able to suggest the best dumpster rental in Lubbock, guaranteed!
How Long Does it Take to Get My Dumpster?
Our dumpster rentals in Lubbock are usually available the same day and we even offer after hours and weekend delivery, but this can vary based on availability. If for some reason we can't get it you by then, we'll schedule your delivery for the next available date. Our roll off dumpsters are in constant demand, but we're happy to work with your schedule and get you a container as soon as possible. Our purpose is to make your construction job easier and keep your trash from causing you problems. We are good at this. Call Happy Trash today for any questions or to book your dumpster