Happy Trash Roll-Off is a Lubbock area roll-off container and trash management service.
Happy Trash roll-off is constantly looking at new ways to revolutionize your trash problems.
What if your roll-off container didn't look, well trashy?
What if your trash container could make you money through advertising?
What if your trash management was so easy you won't even see a bill for months or even years?
Stop dealing with your current trash hassle and have these and other benefits now.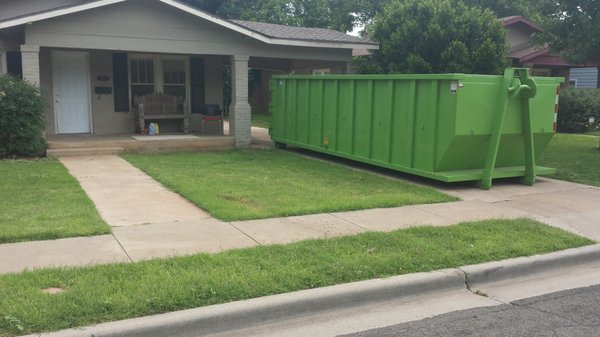 Happy Trash
Happy Trash is a Lubbock owned junk hauling company.
Happy Trash will deliver roll off containers or will even load the container for you. We have competitive pricing for our roll away dumpsters.
We offer bulk or volume users huge discounts as well as advertising packages on our containers. Ask about our 24 dump packages that regular customers use to save money.
Contact Happy Trash at:
  806-319-6438!
Get your roll off container today
Roll-off containers make construction cleanup and hauling a breeze. We provide containers for construction and trash hauling needs. Happy Trash was created by Lubbock residents with experience in the construction and trash hauling business. We understand roll-offs because we use them ourselves. After years of renting roll-off dumpsters, going to the dump in pickup trucks, using flatbed trailers and even dump trailers we entered the roll off business with the idea to revolutionize the trash industry.
Every wast management company you call (except us) does business the same way, Ugly roll off containers, pushy salesmen, difficult phone systems, lots of hidden fees. If you've ever gotten a bill for a waste management company and seen things like fuel surcharge, environmental fee, etc you know what we are talking about. These fees really add to the cost of your container rental, usually double digit percentages in increase.
Happy Trash is bringing the services you need to the roll-of business. We provide the fastest service possible with friendly staff. We provide large dumpsters and an overall great experience. Our customers regularly say things like "I'll never use another waste management company again."