We offer simple and easy pricing of $455.00 plus sales tax. This price includes delivery/final pick up of roll-off dumpsters within the City of Lubbock, 4 tons of construction and demolition waste and 10 days of rental time.
As you call around getting quotes notice that many Lubbock or surrounding area roll-off companies charge you for daily fees, fuel surcharge fees, tonnage fees, pick up fees, delivery fees and even invoicing fees. We like simple and easy. We like happy customers!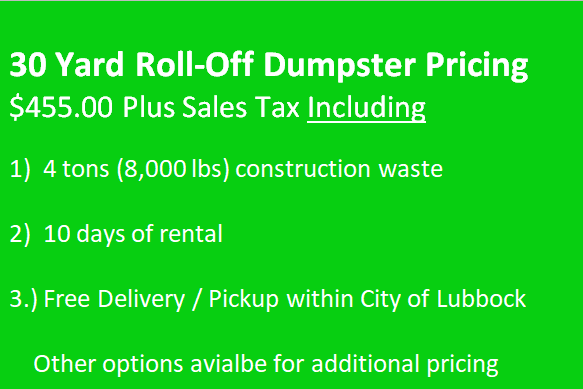 Happy Trash Prices 30 yard Roll-Off
Happy Trash only carries 30 yard dumpsters
Our 30 yard container measures about 22 feet long about 8 feet wide and about 6 feet tall. Happy Trash uses hook lift dumpsters allowing us to place dumpster in tight areas. Most roll-off companies use what is called "cable lift" systems. These systems use a steel cable to pull the roll-off dumpster up on the truck and uses gravity to place the dumpster back on the ground. This sometimes causes damage such as: drag marks, gouges and damage to the surface the dumpster is placed on. As mentioned above the $455.00 plus sales tax includes: the dumpster delivery and pickup in Lubbock, 8,000 pounds of construction and demolition waste and 10 days of rental. Expect to pay the same price for a Roll Off  unless you are over the 8,000 pounds, have the dumpster longer than 10 days, are out of town, or have unpermitted items in the dumpster.
Additional 10 day roll off rental:
To rent a Roll-Off construction dumpster for longer than 10 days  only pay $45 for each extra 10 days period.  The first 10 days are included in your rental however if you need to keep your dumpster for longer the price is only $45 for another 10 days.
No one likes extra charges on Roll-Off Dumpsters
We try hard to have transparent pricing, however, there are some things to watch out for to ensure you do not have any overage charges. Additional cost may incur for trash over the top of the 30 yard roll-off dumpster, unpermitted items in the dumpsters, blocked dumpsters resulting in a second trip and household waste etc. See your contract for exact specifics.
Happy Trash consistently delivers the best roll-off service around. In fact, one customer stated
" I do construction in 25 states and you are the best waste management company I have ever used "